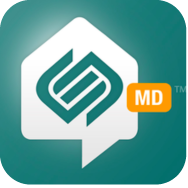 Medocity MD
---
Medocity MD was developed for care professionals to virtually connect with, track and monitor patients. The platform's configurable cloud-based design allows it to be used for Virtual Care Management, Care Coordination, Remote Patient Monitoring and Connected Communications like Telemedicine. And, it's available on smart phone, tablet and PC.
Features include:
--------------------------
Remote Monitoring - Receive Alerts based on Symptom Reports / PRO, Resolve Alerts
Condition Management - Manage comorbid conditions. Create customized guidance / recommendation. Symptoms / PRO Rules Engine
Messaging and Telemedicine – Secure messaging and Video calling with patient
Patient Dashboard – Quickly view patient health summary, risk level, symptom and vital alerts, trend data and patient reports
Care plan – Customizable templated patient-specific care plans for chronic conditions
EMR Integration – Import patient data from your EMR
Vital Tracking - Track patient vitals captures from passive devices.
---
Report Listing